Source: Cooking LIght
Serves: 10
Active Time: 30 minutes
Total Time: 8 hours 30 minutes
Ingredients
2 Tbsp dark brown sugar
2 tsp paprika
1 tsp black pepper
1 tsp ground cumin
¾ tsp ground red pepper
½ tsp ground coriander
1 (4½-lb) bone-in pork shoulder roast (Boston butt), trimmed
1 Tbsp canola oil
1 cup finely chopped white onion
1 Tbsp finely chopped garlic
½ cup unsalted chicken stock
½ cup unsalted ketchup
¼ cup apple cider vinegar
1 tsp kosher salt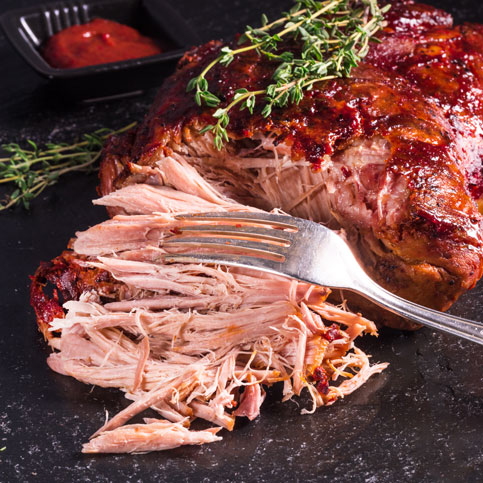 Directions
Combine first 6 ingredients in a bowl. Reserve 2 tablespoons spice mixture. Rub remaining spice mixture evenly over pork, pressing to adhere. Heat oil in a large Dutch oven over MED-HIGH heat. Add pork to pan; cook 15 minutes, turning to brown on all sides. Placed browned pork in a 5- to 6-quart electric slow cooker.
Add onion and garlic to Dutch oven; sauté 3 minutes. Add stock to pan, stirring bottom to scrape up brown bits. Remove pan from heat; stir in reserved 2 tablespoons spice mixture, ketchup, and vinegar. Pour stock mixture over pork in slow cooker. Cover, and cook on LOW 7½ to 8 hours or until tender.
Place pork on a cutting board; let stand 20 minutes. Skim fat from cooking liquid; reserve ¼ cup liquid. Shred pork into large pieces, discarding bones and fat. Place pork in a bowl; add reserved ¼ cup cooking liquid and salt; toss to combine.
Serving size: about 3 oz. pork.
Nutritional Info: Calories 193; Fat 8g (sat 2g, unsat 5 g); Protein 20 g; Carbs 10 g; Fiber 1 g; Sugars 7 g (added sugars 5 g); Sodium 269 mg; Calc 3% DV; Pootassium 15% DV