Source: Food Network
Serves: 4
Active Time: 20 minutes
Total Time: 50 minutes
Ingredients
1½ lb small tomatillos, husked, rinsed, and sliced into ½-inch rounds
2 cups red onion, sliced
2 Tbsp extra virgin olive oil
Salt and freshly ground pepper
1 2-pound Atlantic salmon fillet
1 lemon, cut into thin slices
1 Tbsp fresh chives, chopped
1 Tbsp fresh cilantro, chopped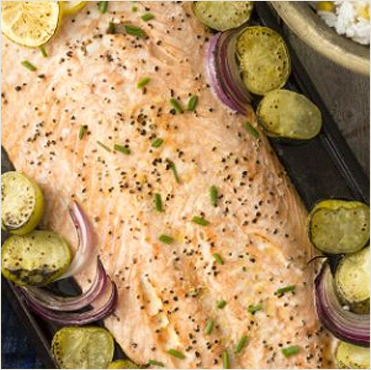 Directions
Preheat oven to 375°F. Line a baking sheet with parchment paper.
In a bowl, toss the tomatillos and red onion with the olive oil, and salt and pepper to taste. Spread on the prepared baking sheet and top with the salmon fillet. Season the salmon with salt and pepper and top with the lemon slices, chives, and cilantro. Roast 20-30 minutes for rare to medium rare. Transfer the salmon to a serving platter and return the tomatillo and onion mixture to the oven. Continue t roast until tender and caramelized, about 5 minutes more.
Serve the tomatillos and onions alongside the salmon.
Nutritional Info: 450 Calories; 23g fat (4g sat), 13g carbs, 47g protein, 4g fiber, 170mg sodium