Source: Cooking Light
Serves: 4
Active Time: 20 minutes
Total Time: 20 minutes
Calories per serving: 453
Ingredients
1 tsp. Water
12 oz. baby Yukon Gold potatoes, quartered (about 2½ cups)
3 Tbsp olive oil, divided
2 tsp. ground cumin
1 tsp. ground turmeric
1¼ tsp. kosher salt, divided
½ tsp. black pepper divided
8 (3-oz.) lamb loin chops
1 (12-oz.) pkg. fresh steam-in-bag broccoli florets
1 Tbsp. unsalted butter, softened
1 lemon, cut into wedges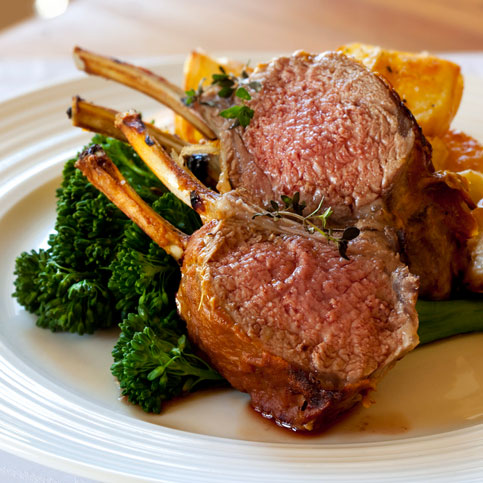 Directions
Place 1 tablespoon water and potatoes in a medium microwave-safe bowl; cover with plastic wrap. Microwave at HIGH 4 minutes or until tender. Spread potatoes on a single layer on a paper towel-lined baking sheet; let dry 3 minutes.
Combine 1 tablespoon oil, cumin, turmeric, ½ teaspoon salt, ¼ teaspoon pepper in a small bowl. Rub spice mixture evenly over lamb chops.
Heat 1 tablespoon oil in a large cast-iron skillet over MED-HIGH. Add lamb chops to pan; cook 3 minutes on each side or until desired degree of doneness. Remove chops from pan; let stand 5 minutes.
Return pan to MED-HIGH. Add remaining 1 tablespoon oil. Add potatoes, ½ teaspoon salt, and remaining ¼ teaspoon pepper; cook 3 to 4 minutes or until crisp.
Cook broccoli according to package directions. Place broccoli, remaining ¼ teaspoon salt, and butter in a bowl; toss to coat. Serve with lamb, potato mixture, and lemon wedges.
Serving size: 2 lamb chops, ½ cup potatoes, and 1 cup broccoli
Nutritional Info: Calories 453; Fat 24g (sat 7g, unsat15g); protein 40g; Carb 22g; Fiber 5g; sugars 2g (added sugars 0g); Sodium 766mg; Calcium 15% DV; Potassium 22% DV